The awesome people at Modular Robotics asked if I would take a look at their
Cubelets 12 Kit
and share some thoughts.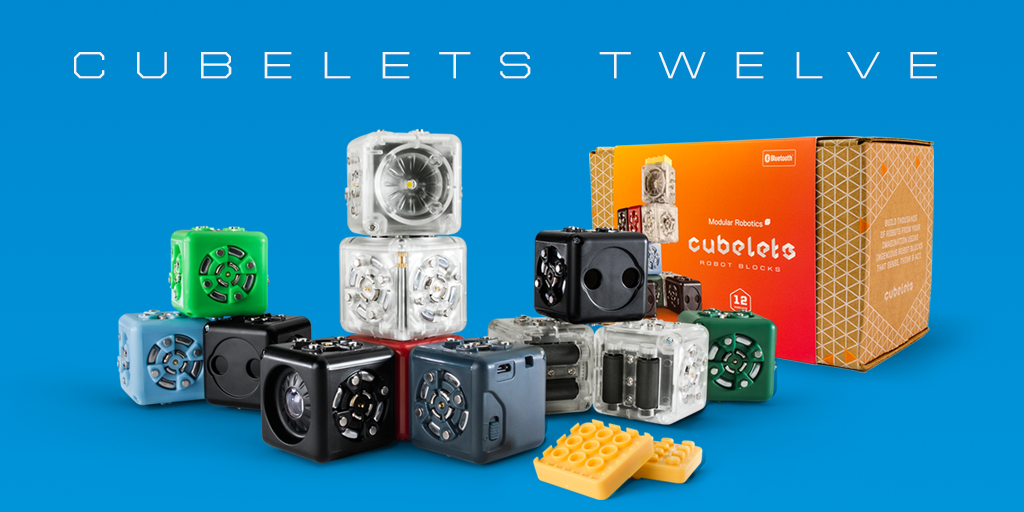 To be honest, I was not sure what to expect when I opened the box and saw these Cubelets that snapped together using magnets. Like always, I tossed aside the directions and just start connecting cubes. Within seconds, I had the cubes with wheels sprinting off the table with the light cube on the front and a light sensor on top. I had accidentally created a light powered train! I had a huge smile across my face.
The kit comes with 12 cubelets, hence the name, and here they are;:
Inverse Cubelet - Directs the flow in the opposite direction.
Passive Cubelet - Lets data and power pass through it.
Blocker Cubelet - Passes on power, but blocks communication between blocks.
Rotate Cubelet - One face of the cube spins at the relative rate of power it receives.
Flashlight Cubelet - Strong LED
Brightness Cubelet - Light Sensor
2 Distance Cubelet - Infrared light sensor that detects how close or far an object is away.
2 Drive Cubelets - Cubelets with wheels.
Battery Cubelet - Chargeable Cubelet that powers everything connected to it.
Bluetooth Cubelet - Control your Cubelets from your phone by connecting via Bluetooth and the Cubelet app.
What is nice about these Cubelets is that they can be connected in any order. The build options are limitless with the cubes. There also two connectors that allow for the addition of LEGOs. I like this feature because you can connect your LEGO creations to your Cubelets and use the Bluetooth Cubelet to control your LEGO creations. I love any tools that can allow connections to other tools.
Modular devices are very nice and allow for many different creations for students. I can see students building their own robots with the Cubelets serving as the power, sensors, and wheels. Add some arts and crafts and your personal little robot could be connected to your phone through the Cubelets app.
It is a fun tool that is a great way for young children to engage in creativity using sensors without the full hassle of soldering and computer boards. Playing with Cubelets would be a wonderful way to introduce students to those concepts down the line.
Cubelets has a
great site for resources
to show how Cubelets can be used in the K12 environment. Their lesson plans are a great way to engage students with Cubelets.
If you want to dive in to the coding world, Cubelets has a couple of
programming options
worth checking out on their site. Using Blockly and Flash, you can program your own blocks to do exactly what you want them to do.
Overall, I think Cubelets is a diverse tool that can be used for many different age groups and are worth exploring if you are looking for something new for your classroom or Makerspace.
Cubelets was nice enough to offer a Promo Code for the readers.
Add the Brick Adapters to your cart along with any purchase over $30 and apply the code at checkout to get the Brick Adapters for free.
Promo Code: NerdyFreebie
Cubelets did send me a kit for the purpose of the review, but that doesn't make the product less awesome.